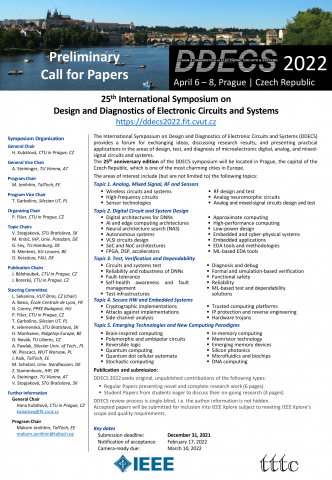 The International Symposium on Design and Diagnostics of Electronic Circuits and Systems (DDECS) provides a forum for exchanging ideas, discussing research results, and presenting practical applications in the areas of design, test, and diagnosis of microelectronic digital, analog, and mixed-signal circuits and systems.
The 25th anniversary edition of the DDECS symposium will be located in Prague, the capital of the Czech Republic, which is one of the most charming cities in Europe.
The areas of interest include (but are not limited to) the following topics:
Analog, Mixed Signal, RF and Sensors
Digital Circuit and System Design
Test, Verification and Dependability
Secure HW and Embedded Systems
Emerging Technologies and New Computing Paradigms
Key dates
Submission deadline: December 31, 2021
Notification of acceptance:  February 17, 2022
Camera-ready due: March 10, 2022
The 25th edition of DDECS is organized by Digital Design & Dependability Research Group at Faculty of Information Technology of the Czech Technical University in Prague, Czech Republic.
See https://ddecs2022.fit.cvut.cz/ for more information.